The following are the locations featured on the series, Make It Pop.
Mackendrick Prep is a preparatory school where
Sun Hi
,
Jodi
,
Corki Chang
, and
Caleb
goes to. Ms. Diona is the principal of the school. Mr. Stark is the head of the preforming arts department and the residential adviser. The school's mascot is the beagle.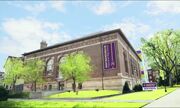 Ryker's Rink is a roller rink where Caleb works. He was hired as the janitor. Caleb's boss is
Randy
, who was never shown in person,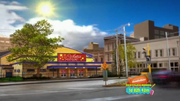 only as a silhouette. In
Failed Dreams
, Caleb turned the rink into a club and renamed it Club Ry Ri.
XO-IQ
had their first performance there in
I Can't Hear Me
. They also performed Dan after party in
Heart, Courage, Brains
.